Are you still not quite sure if a wedding videographer will fit into your budget?
You're not alone. For many couples booking a wedding videographer is a last minute decision!
So to answer the question – is a wedding videographer worth it? Yes. If you're budget allows for it. In Australia 51% of couples choose to have a wedding videographer with 7% opting to go the DIY route. The remaining 42% choose not to get a professional wedding videographer. 
Why Hire A Wedding Videographer?
Aside from the statistics, there are some more important reasons why you should consider hiring a wedding videographer, I've made a little list below:
Wedding videos are the ONLY way you can hear what was said when you say your vows, or those embarrasing moments during the speeches.
You can see the moments you missed in the busyness of your wedding day.
Relive the emotions you experienced from the start to the end of your wedding day.
You get to share your wedding with your friends and family – especially the ones who couldn't make it.
You get to keep it! You flowers will wilt away, you only hire your venue for one day and your cake gets eaten, but your wedding video lasts forever! You can re-watch it as many times as you like (I promise).
Some couples toy with adding this particular vendor by presuming it's an unnecessary cost, but it's worth it. Take it from couples who didn't hire a videographer on their wedding day (many say it's one of their greatest regrets).
Some couple only think about hiring a wedding videographer. The assume its an unnecessary cost, but it's worth it. Surveys from couples who didn't hire a wedding videographer say its one of their biggest regrets.
Professional wedding videographers are experts when it comes to capturing those special candid moments from your day. Having a wedding videographer at your wedding ensures that all of the details (your flowers, venue etc), and the meotions of the day get captured – wrapped up in a sweet little video you can share forever!
The Cost Of Wedding Videography in Australia
When you want to find out whether a wedding video is worth it. You probably want to know how much a wedding video actually is! The easiest way to figure out the exact cost would be to use my wedding video cost calculator.
For reference the average cost of a wedding videographer in Australia is $2,695 and $2,520 in Queensland. Keep it mind that this is the average and many factors can affect the price. The price varies significantly based on what is included in the package. Here is a typical package that costs around $3,500 in Queensland:
Two videographers
10 hours of filming
A video clip for reception
Full Ceremony coverage
Reception Speeches coverage
5-minute cinematic highlights of the day video
Online & USB video files delivery
Drone footage (location dependant).
If you want to figure out how much my wedding videos are, please visit my contact page and let me know more about your wedding, and I will put together a custom package for you. My wedding videos start at $2,500.
You can always find a cost that is suited to you.
In 99% of cases, your wedding videographer will be able to tailor their service to match your requirements. For example maybe you only what certain parts of your wedding covered – your videographer can work around that when pricing your wedding video. Other factors include:
The length of your final edit
How long they will be there (coverage hours)
The number of videographers
Any extras such as drones, or lighting equipment
Now before you go out and choose the cheapest packages, keep in mind… you get what you pay for. The cheaper packages < $1000 are usually beginners who are just getting started and what to book as many wedding videos as possible. Now if you just want a video this might be a decent option – but again, if the quality of the video is important to you, keep this in mind when looking for videographers.
Don't just look at price when considering videographers – also look at their reviews. Have a look and see how many reviews they have and what their couples are saying about them. If their couples are giving them rave reviews you might want to book them ASAP. Also make sure to view their social media profiles and watch their latest wedding films.

Also, meet up with the videographer either in person or in a "video" call, to gain an understanding if your personalities are a match.
What is the average cost of a videographer in my state?
Like any supplier, the average cost can go up or down a bit depending on which state you're based in and the suppliers available to you. Most of the time, you'll be looking at budgeting somewhere between $2000 and $3500 for a popular videography package. But here's the average you can slip into your budget for your wedding video in each state.
Average Cost Of A Wedding Videographer In Each State of Australia
For more information please visit my post: How Much Does A Wedding Videographer Cost?​
Wedding videos are not what you think.
Forget the idea that a wedding video means your going to have lights and cameras in your face all day. Modern wedding videographers use a more 'documentary' style of filming. We hang back and you will barely notice us capturing footage on your wedding day. Plus wedding videographers take video in a variety of styles.
Video captures sound that your photos can't.
This one is fairly obvious but unfortunately, photos don't come with audio! Video captures special audio such as your mum's tearful words just before the ceremony – or your father's reaction the first time he sees you in your dress. These are the sort of memories you will cherish long after your wedding day, and a video will make sure they last forever. Whether you write your own vows or do it traditionally, there is no better way to document your vows than video. Last but not least the speeches – many brides forget what was said, and having a video allows you to remember the special things your close friends and family had to say about you. Here at Flare Films, we produce a highlight film by default – but you can also add on the full speeches video and ceremony video after your wedding day. Check out our packages for more information.
Video captures the in-between moments.
Yes, your photographer will get a mixture of posed and candid shots, but when it's those quiet moments in between – your wedding videographer will capture these special moments. Since a wedding videographer generally won't 'pose' you, these are the most authentic moments. With a wedding videographer, all you have to do is enjoy your day!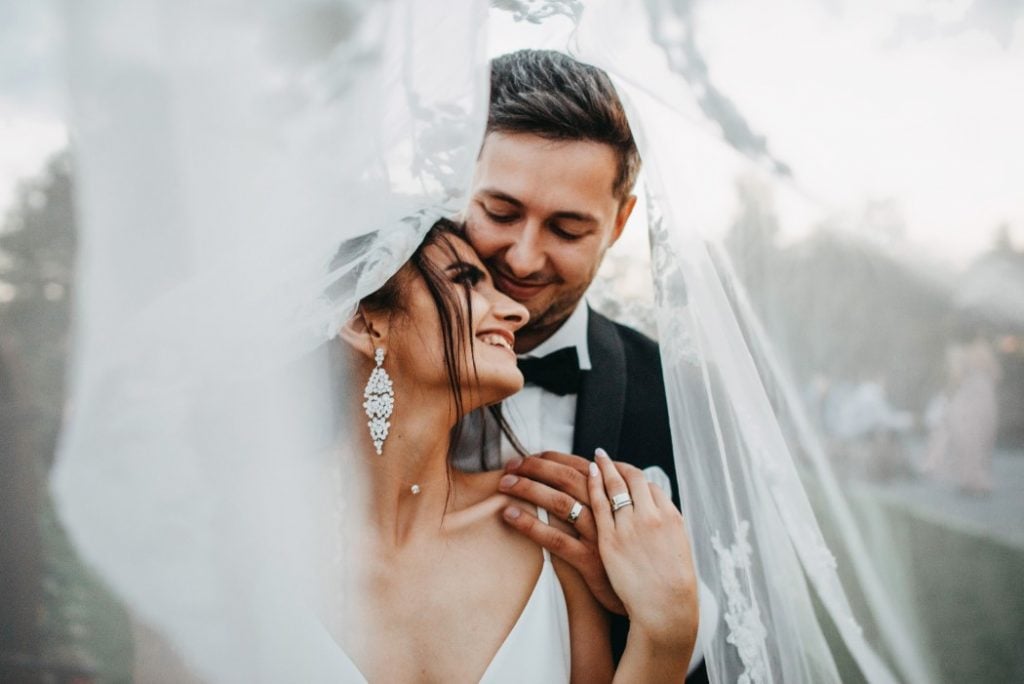 Wedding videos are not hour-long sagas.
When you think of a film, you might think of the 2.5 hour superhero movies that keep being released and wonder "Is my wedding video really going to go for 2.5 hours?"
No way! Most wedding highlight videos will go for less than 10 minutes, and only show the best moments of your day. Many wedding videographers also produce social media videos which are much shorter – about 60 seconds and are suitable to post on social media.
If you do want to experience your whole wedding day – I edit full-length 'documentary' edits, which include all of the events in your wedding day in order.
Videography lets you experiment with style.
Your wedding day photos are going to be posted on your fridge, so you want these to be timeless. But your wedding video can be a little bit more trendy – while still looking classic. My advice is to browse through the websites of some of the best wedding videographers in your area and find the style of video the you vibe best with.
If you're extra-concerned about your wedding photos looking timeless (they're going to be displayed in your home for years to come, after all), your video can be a little trendier while still looking classic. Work with a professional wedding videographer to find a creative style that works best for you.
The Pros and Cons Of Wedding Videography
In order to answer the question of whether wedding videography is worth it, I have gathered feedback from a number of couples. Full disclosure I am a wedding videographer, which is why I have tried to base my views on what real couples say about wedding videography. I have also provided feedback for and against wedding videography so you can come to your own conclusion.
The Pros:
"I love wedding videos!"
I say yes! I love wedding videos, they are so amazing to have. If you can afford it, I'd do it. The ONLY wedding advice we have been given is "I wish we got a videographer". We are paying $2,500 for ours. – Mrs D
"Having that video to re-watch is priceless."
Well, I was one who wasn't going to get a videographer, and three weeks before my wedding as a direct result of all the feedback, I did hire one and ….. I AM SO GLAD I DID! My husband is very glad too. It's money very well spent in my opinion. The day goes by in a flash and having that video to watch and re-live the day is priceless.
"Find a style the works for you"
It was a must for me. To be honest i didn't need a super skilled videographer but i definitely wanted the moment captured by a reputable company. So i didn't choose anyone too expensive but i just limited the hours they needed to capture. I still have videos of me as a child so i love to look back at what i've missed and years from now show footage of my family members and show my grand kids and so on. Pictures don't allow me to re-live the moment like video. I do hear that brides/grooms not getting a videography is one of the most regrettable things. I say it depends how much you value video, some do not so its not worth it to them. Consider your budget and keep looking for someone in that budget. The video is all that matters really so if that helps you find another style that works for you maybe you can have them tailor it to your budget.
The Cons
"It's too expensive"
Most people will say it's worth it but I feel like it's about if it fits in your budget or not. It's sooo expensive, I'm pretty sure we are gonna go without,
"I didn't regret it"
I did not have a videographer and do not regret it one bit. It was more important for me to get an awesome photographer and to supply a very high-end experience for my guests. 2 years later and I'm still good with the decision
Summary
If you're asking yourself whether to hire a wedding videographer, we say, absolutely do it!
If your still looking for a videographer – I would love to hear from you! To learn more about my pricing and packages visit my contact page.